Image inspection system apparatus
Metal Surface Inspection Device ①High Res-S ②High Res-HS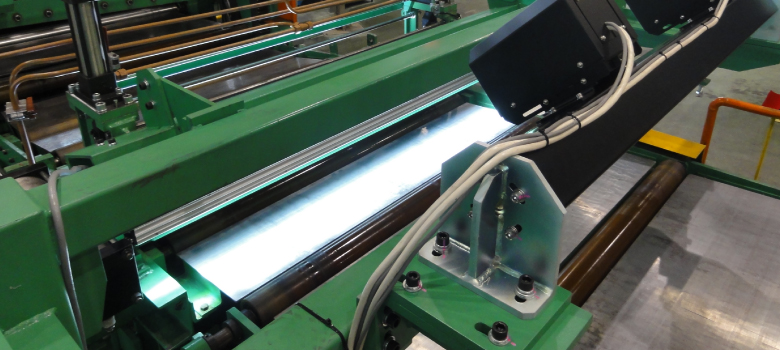 Inspection device (High-Res-2) was developed and started sales based on the new technology simultaneously inspecting ①Determination of a scratch and a line under oil ② Opposing corner and diagonal line ③Determination with burr .
New Technology
1.oil stained steel sheet
Dark field lighting effect
・It allows the inspection of the scratches without being affected by the stain.
・it turns the signal from the oil down, and also become capable of detect the longitudinal linear defect.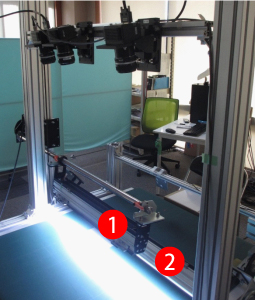 Installation of grid lighting at
a sensing environment
1、Grid lighting
2、LED diffused reflection lighting
2.Surface inspection for the electrical steel
Detection principle of hole and glitters
It detects such as normal draw scratches and line scratches, and also may discriminate holed defects and detect glitters on the surface of the electrical steel.
Inspection method for holes
Add LED lighting for the inspection for holes to the surface inspection part, and the holed defects will be detected and determined surely by the transmission type hole inspection,
as well as the holed defect discrimination function from the image processing.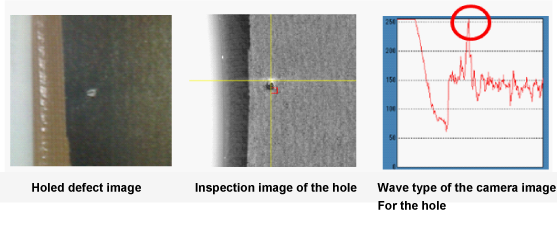 Detect glitters
For the gathering defect of dots that are brightly luminescent generate on the surface of the electrical steel, detect one by one by light defect determination.

When more than designated number of dotted defects are generated within the designated area, determine them as abnormal denseness defects.
System Configuration
Single-face Inspection Device Configuration
1 ) Base Material product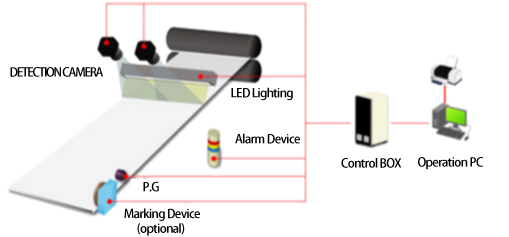 2 ) Slit-formed product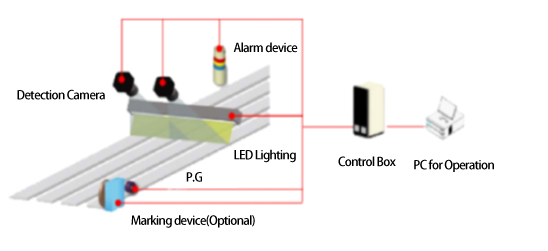 3 ) Sheet-like product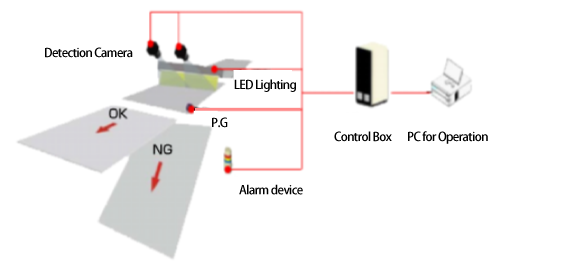 Double-face Inspection Device Configuration
1 ) Double-face Inspection Device Configuration (Base Material product)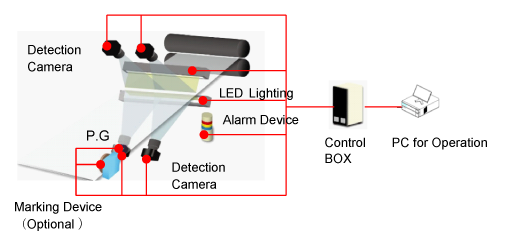 2 ) Double-face Inspection Device Configuration (Slit-formed product)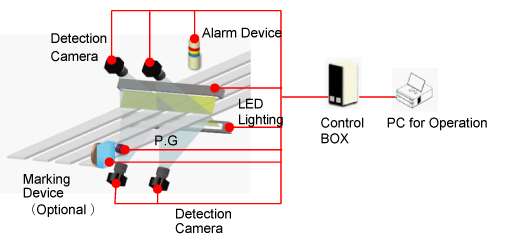 3 ) Double-face Inspection Device Configuration (Sheet-like product)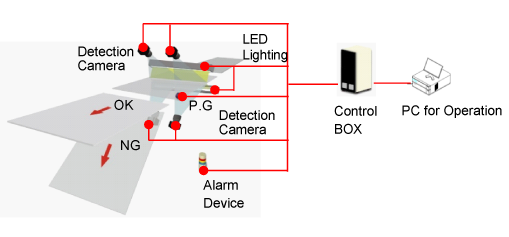 Specification(In the case of 1400mm test breadth)
Width resolution
Camera 1ch Width of field÷4000pix
Example) When width of field per camera is 700mm
Width of field=700÷400pix=1.75mm/pix
Flow resolution
0.2mm(When line speed is 200m/min)
Kinds of detected defects (Examples)
(1) Fouling (2) Roll scratch (3) Dents (4) Peel off
(5) Friction (6) Color missing (7) Mixing of extraneous matters
(8) Linear paint defects (9) Plating defects (10) Dirt etc.
Materials to be Inspected
Coil (cold rolling, acid pickling), aluminizing stainless materials
Materials to be inspected (length)
Max99999m (at the time of base material inspection and slit inspection)
Materials to be inspected (sheet length)
Max10000mm (at the time of sheet inspection)
Main screen configuration

Flatness Measuring Device TD-SMART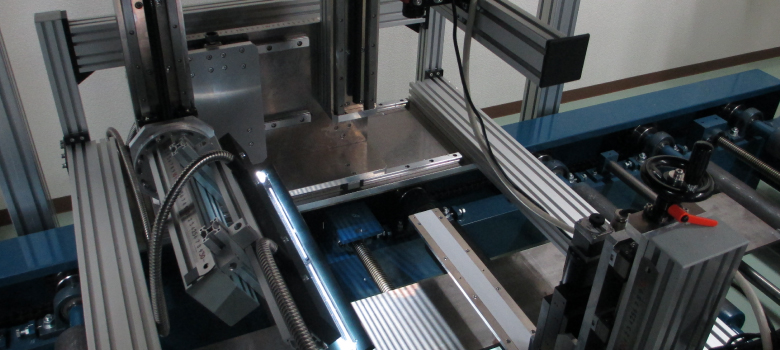 Capable measuring depths of flaws, line flaws , and flare on moving metal surface in high-speed and high-precision.
Features
Capable of measuring depths of flaws(scratches, dent, etc) of thick sheet, thin sheet, flat steel and shape steel, and flatness (warp・distorsion・curve) of flare and moderated irregularity (wave)by using the projector system and area sensor camera (CMOS MROI Function),
Object measured
| | |
| --- | --- |
| Material tested* | Thick sheet, Thin sheet, Flat steel, Die steel(As H/I/L type) |
| Type of steel sheet | Cold rolled steel sheet, Precoated steel sheet, Pickling steel sheet, Copper foiled, Aluminium foiled, Colored coating steel sheet, Coiled (cold rolled, pickled) etc… |
| Components | Iron, Aluminium, Copper, Stainless stell, Zinc, Lead etc… |
| Parameters measured | Flatness (Warp, distorsion, curve), Moderated irregularity (Wave), Flare after slitting, etc… |
*Tested material practicable measure range
(1) Length of windered coil: able to measure until 99999 m maximum for 1 coil
(2) Length of sheet: able to measure until 100 m maximum for 1 sheet
Purpose
1)Thick sheets (Rotary)
When a thin sheet is made on a rolling mill, it may develop wavy deformation due to poor control.
Such deformation may be detected by measuring the height information of the flow (conveyance) direction.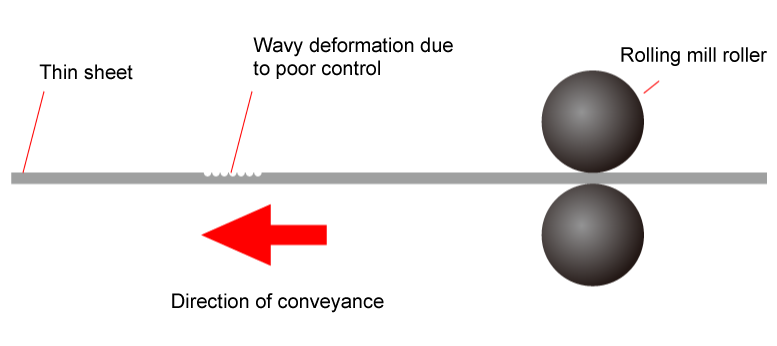 2)Thin sheets/Thick sheets (Sheet)
Uneven thickness is detected by measuring the height in the widthwise and in the rolling direction.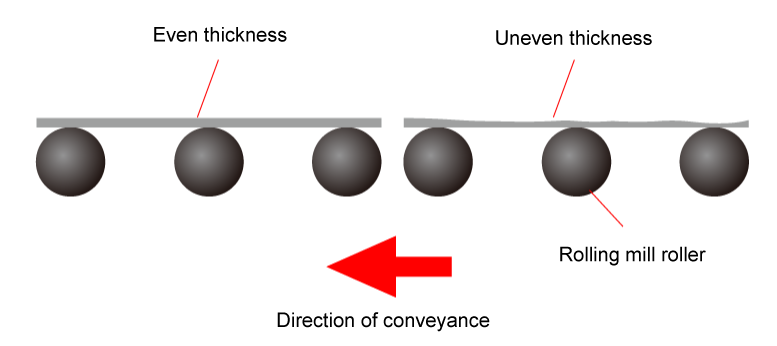 System Configuration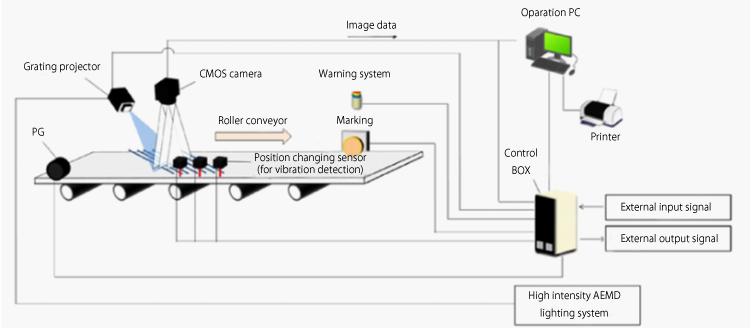 Specification
Test breadth
MAX 410mm(when using 1 camera)
※By using several cameras and grating projector, possibility to test the whole surface with a maximum breadth of 5500 mm
Height measure resolution
(Minimum measure resolution of flatness・scratch depth)
20µm Measure range of height (mm) ÷ 500
※As scratch depth・flat degree, the height direction measure resolution changes by the measure range of height direction)
Stream resolution
0.5mm(When line speed is 120m/min)
Breadth resolution
0.2mm/pix
1ch view range of camera ÷ 4000 pix
Height measure precision
± 20μm (If height measure range is 10 mm)
Measuring machine screen

3D- Dimensional Standard Check Device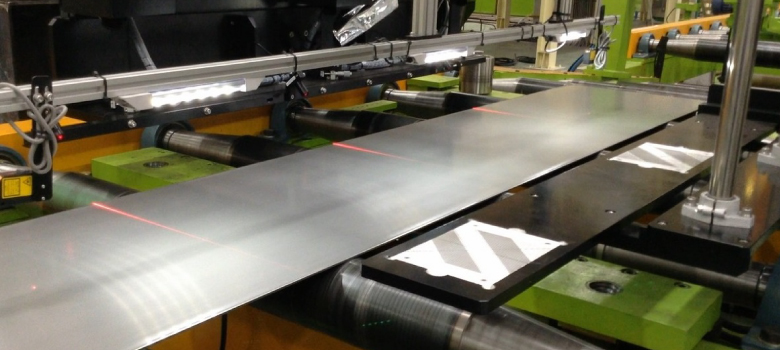 Measures warp and bend of shaped steel using an area camera and laser.
●Flat steel, Shaped steel,Thin board
Features
●Capable of conducting warp/bend inspections online using a area camera and laser instead of conventional visual inspections.
●Projects the whole work profiles and accurately measures the position and the length of warps/bends.
●Measures warps/bends and compares the results with those of the standard work dimensions to judge whether the work meets the standard.
System Configuration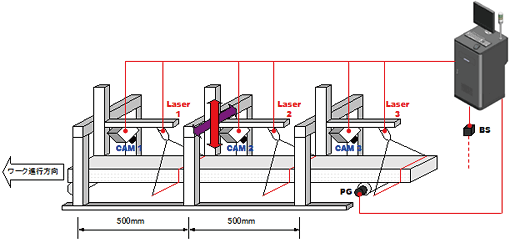 Specification
Flow direction measurement interval
Standard 500mm(possible 200mm/250mm)
decision accuracy
±0.5mm
*VGA monochrome CCD camera (1280pix×960pix)
Measurement range
(Warp/Bend)
Horizontally:Max30mm(standard point ±15mm)
Vertically:Max20mm(standard point ±10mm)
See measurement possibility range
Movement range of electrical stage
(Warp/Bend)
Width :0~3400mm (standard position)
Thickness:0~100mm(standard position)
Measurement contents
total length
(Bent & warp)
Edge
(Bent & warp)
S shape
(Bent & warp)
---
Operational effect (cases of other companies)
A
B
C
D
E
F
G
H
I
1
Reduction of the number of inspectors
1→0
1→0
4→0
Less burden on a inspector
Less burden on a inspector
2→0
2→1
2
Improvement of productivity
100m/min
↓
130m/min
100m/min
↓
130m/min
180m/min
↓
200m/min
3
Improvement of
safety
Inspection of back side
Inspection of back side
Inspection
of back side
Inspection
of back side
Inspection
of back side
4
Improvement of
quality
Capable of whole surface inspection
Capable of whole surface inspection
Capable of whole surface inspection
Capable of whole surface inspection
Detecting fine scratches
Establishment of quality standard
Establishment of quality standard
Establishment of quality standard
5
Complaint
handling
Reducing complaint 20%→ 0.2%
Dealing with maker complaint
Response to user needs
Response to user needs
Offering the inspection result to the consumer
6
Customer
satisfaction
Achievement of differentiation with other companies
Achievement of differentiation with other companies
Achievement of differentiation with other companies
7
Sales
promotion
Increasing orders
Increasing orders
Increasing orders
Non-price competition rate