High Luminance LED Marker
Built-in type Safe Marker
①LM-GⅠ ②LM-GⅡ ③LM-GⅢ ④LM-GⅣ(4model)
The first-in-the-industry compact positioning marker using an LED as the light source.
(Higher safety and visibility of the light source compared with the laser pointer is pursued with this product.)
Name
LM-GⅠ
LM-GⅡ
LM-GⅢ
LM-GⅣ
Measurement
250×100×100
300×110×110
300×160×160
540×210×210
Weight
4.1kg
4.6kg
5.1kg
6.3kg
Projected
light distance
3m~7m
5m~14m
10m~16m
~20m
Separable type Safe Marker
①SLM-G 1 ②SLM-G 2 ③SLM-G 3 ④SLM-G 4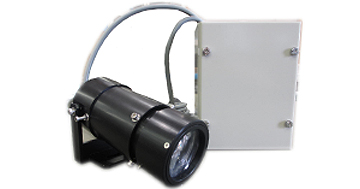 The compact positioning marker using an LED as the light source.
Weight of a projector part (excluding bracket and cable)
Name
SLM-GⅠ
SLM-GⅡ
SLM-GⅢ
SLM-GⅣ
Measurement
220×76×76
176×109×109
276×159×159
426×209×209
Weight
1.1kg
1.9kg
2.3kg
4.1kg
Projected
light distance
3m~7m
5m~14m
10m~16m
~20m
Weight of a power source BOX
Number of projectors
1
2
3
4
5
6
Measurement
150×240×107
340×400×107
Weight
2.3kg
2.8kg
7.0kg
7.5kg
8.0kg
8.5kg
Mercury lamp type ①CCM-S ②SSM-H(2model)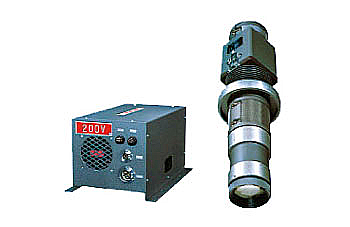 Enables more accurate and quicker positioning of crane crabs. The center marker consisting of a projector and a stabilizer, when it is fixed on a crane, projects a clear and vivid mark on the ground from the crab.
Name
CCM-S
CCM-H
Measurement
Main body 780×330×330
Stabilizer 450×320×310
Main body 900×330×330
Stabilizer 450×320×310
Weight
Main body26kg
Stabilizer38kg
Main body32kg
Stabilizer38kg
Projected
light distance
7m〜17m
17m~30m
Example of safe marker devices